Anupamaa: Anuj kisses Anu's hand; Vanraj announces Anu's wedding won't happen at Shah house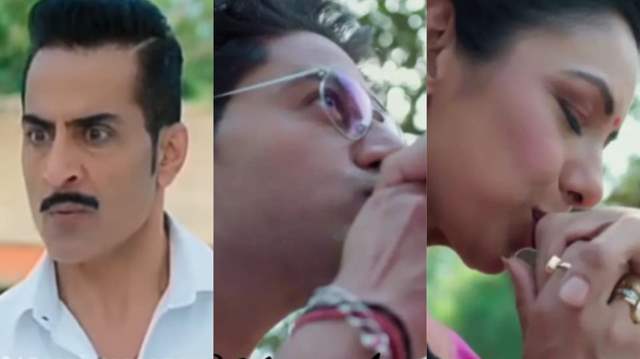 Star Plus show 'Anupamaa' is marching towards the most awaited twists of all time. Anupamaa is all set to get married to Anuj. However, Vanraj and Leela are hell bent on spoiling Anu's wedding by making mean statements and hurting her. Anupamaa is elated with Toshu and Pakhi full heartedly being a part of her wedding.
In the upcoming episode, Anupamaa meets Vanraj and obliges to talk to him personally. Vanraj plays mind games with her and manipulates her. He gives her a long lecture as to how her relationship with Anuj will fail as she and Anuj will always stay in the shadow of the old relationships that she has with Bapuji, Baa and the kids. He states that Anu and Anuj's relationship will suffocate as she will have to present for all the functions of Shah family and will have to face him every now and then.
Anupamaa fumes in rage and gives a befitting reply to Vanraj and tells him that he wouldn't be able to sow the seed of doubt in her mind as seeds are sowed in soil and her mind is a stone and will not reciprocate to the stuff that he is saying. She warns him to not try and manipulate her in the future. Vanraj smirks and thinks that he will continue doing this to break Anu.
Anuj meets Anu midway and they spend time together. Anuj senses Anu being tensed and lightens up her day by being romantic. He kisses her hand while kneeling down.
Furthermore, Vanraj and Leela see that Bapuji isn't well and he announces that Anu's wedding won't happen at Shah house.