Anupamaa: Anuj shows signs of recovery; Barkha wishes to throw Anu out of Kapadiya mansion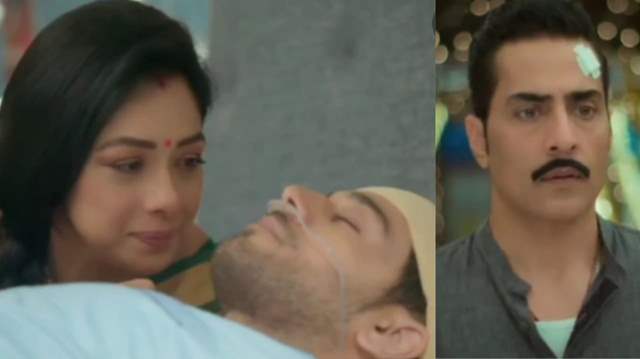 Star Plus show 'Anupamaa' is getting quite interesting with each passing episode. The current track of the show revolves around major conflict between Anupamaa and Barkha. Barkha is wanting to take advantage of the situation and take over the Kapadiya empire. Vanraj is getting restless to meet Anuj.
In the upcoming episodes, doctor check Anuj and inform Anu that opening eyes is a good sign and it is believed that it is sign of recovery. This leaves Anu elated. Choti Anu gets dressed as Lord Krishna. Anu dresses up Anuj as a Kanha and adores him. She gives him Lord Krishna's flute but it refuses to stay in his hands and thus Anu gives him his magnets. Police arrives at Shah house but they heive a sigh of relief as the police come on the wrong address.
Anu sends across a voice note to Shah family and tells them that they're away but should celebrate the festival with zest. Vanraj continuously looks towards the door and wishes to visit Anuj and see him while his family asks him to not think about visiting Kapadiya household. Barkha, Ankush and Adhik prepare to overtake the Kapadiya empire from Anu and throw Anu, little Anu and GK out of the house.
Anupamaa plans to dress-up beautifully and prays that Lord Krishna gives Anuj his birthday gift. Furthermore, Anuj shows sign of recovery as he tries to move his lips and talk. In the forthcoming episodes, Vanraj meets Anuj and apologises to him. Barkha gives Anupamaa some papers and tells her that she acts as if she loves Anuj and is not in love with him in real.