Finally! Will Pushpa reclaim her house with Damini's help in Sony SAB's Pushpa Impossible?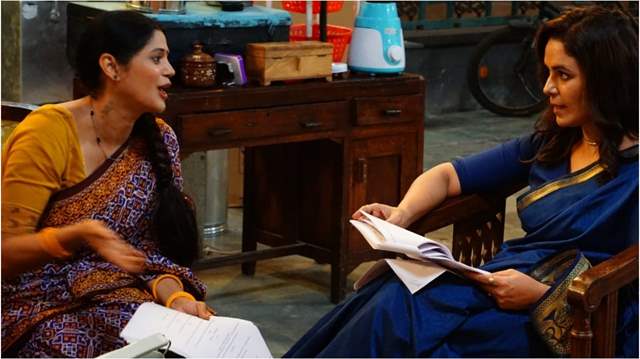 Keeping the audience on its toes with a barrage of dramatic twists, Sony SAB's Pushpa Impossible comes with countless hurdles for Pushpa Patel. While Pushpa and her family currently grapple with the unjustifiable eviction from their home by Bapudra, we are yet to find out if Pushpa's previous act of kindness towards Damini's daughter will go rewarded or not.
Damini arrives at the chawl to find Pushpa and her family in a battered situation, living in the courtyard of the chawl. She realizes that despite her tough situation, Pushpa selflessly helped Damini's daughter in getting back her wallet. Out of gratitude, she decides to listen to Pushpa's plight, discussing the legal procedures and documentation. Out of curiosity, Pushpa asks her about her daily fees and Damini's response astounds her because the sum is unfathomably high. The conversation leaves Pushpa wondering if she would ever be able to win this case and reclaim her home.
Will Damini go pro-bono for Pushpa? Has Pushpa found her ray of hope, or will she continue to fight this battle alone?
Despite the innumerable battles Pushpa faces, her spirit is indomitable. It's common to come across tricksters like Bapudra in today's time, but Pushpa's kindness even in her times of need is rare.
– Karuna Pandey
Karuna Pandey who portrays Pushpa says, "Despite the innumerable battles Pushpa faces, her spirit is indomitable. It's common to come across tricksters like Bapudra in today's time, but Pushpa's kindness even in her times of need is rare. Keep watching the show to find out whether Damini's empathy for Pushpa bears fruit!"
Mona Singh who essays the role of Adv. Damini Mehra remarks, "Damini is there to assist Pushpa with her legal knowledge and expertise. I wish that everyone who is going through something similar to what Pushpa is going through meets a Damini during their struggle. Legal battles are difficult for everyone, especially if they receive an unjust judgement. I hope that my role can inspire people to do good deeds, and I hope that you, the audience, continue to support and adore the show!"