TRP Toppers: Khatron Ke Khiladi 12 enters the Top 5 list; Anupamaa tops again; GHKKPM sustains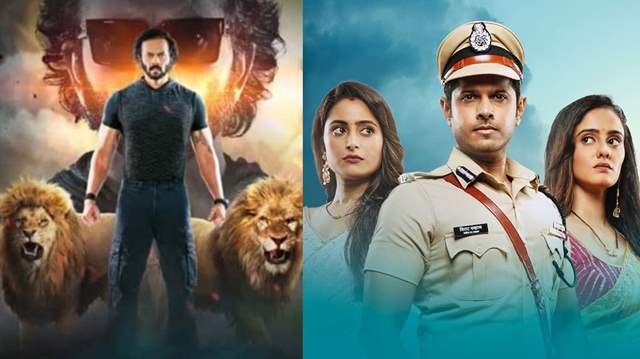 We are back with another week of reporting the numbers game and mentioning how your favorite shows performed this week. While some continue to be predictable with their performances, there are some changes to look at usually. After a week full of dramatic twists in the TV shows, the producers, channel as well as the viewers wait eagerly to know the TRP ratings of their favorite shows.
Here we go with the ratings of this week.
No.5: Bhagyalakshmi
Featured Video
No. 5 – Bhagyalakshmi
Zee TV's 'Bhagyalakshmi' ranked at no.3 last week and this time around the show is ranked at fifth position with 2.1 points. Post revelations track, fans are eager to get Rishi and Lakshmi together which might spike the ratings of the show.
No.4: Ghum Hai Kisikey Pyaar Meiin
No.4 – Ghum Hai Kisikey Pyaar Meiin
While fans opposed the current track of Star Plus show 'Ghum Hai Kisikey Pyaar Meiin', the show has managed to sustain with good TRP. This week the show ranked fourth with 2.1 points rating. In the forthcoming episodes, Sai will focus on knowing more about the attack that happened on the transplant day and about the woman who manipulated Geeta. This track might get good numbers to the show in the upcoming episodes.
No.3: Yeh Hai Chahatein
Yeh Hai Chahatein
The current track of Star Plus show 'Yeh Hai Chahatein' has kept the fans hooked to the TV screens. The show continues to perform brilliantly by sustaining the number third position with 2.1 ratings.
No. 2: Khatron Ke Khiladi 12
No.2 – Khatron Ke Khiladi 12
Making a stylish and grand entry into the TOP 5 list, Khatron Ke Khiladi 12 secured the second position with 2.5 rating. The show might even take the top spot, if it continues to perform the same way. The show has definitely lived up to the expectations and has been entertaining the fans since the beginning. Apart from the contestants and their endearing personalities, Rohit Shetty's charm makes the show more watchable.
No. 1: Anupamaa
No.1- Anupamaa
No points for guessing, Star Plus show 'Anupamaa' is handsomely securing the top positions since months and this week is no exception. While last week the show topped the charts with 2.8 points, this time around the ratings have improved as the touched 3.0 points. Current track wherein Anuj and Anupamaa are fostering young Anu might get the show more numbers in the future.
Apart from the above, shows that sustained well includes Yeh Rishta Kya Kehlata Hai and Imlie with 2.1 points, Kundali BHagya with 2.0 points, Banni Chow Home Delivery and Naagin 6 with 1.9 ratings.
What are your thoughts on this week's TRP chart? Hit the comment section below.