Woh Toh Hai Albelaa': Anjali is back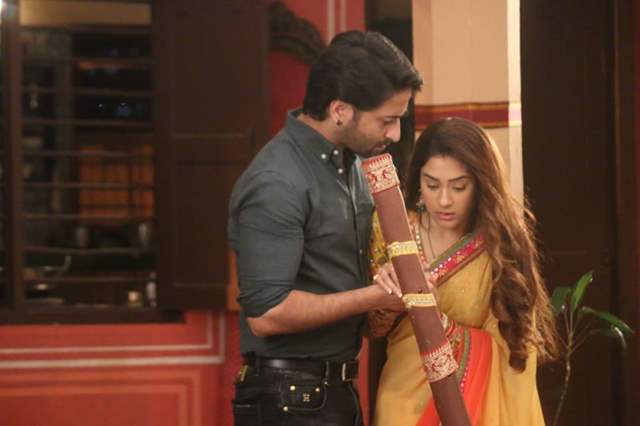 The Tuesday episode of Rajan Shahi's "Woh Toh Hai Albelaa" started with a hurt Sayuri going to her home barefoot. Her family comes and meets her and asks her if something happened. She tells them how the Chaudhary men left empty stomach and Indrani asks her if she will keep the fast to which she says yes.
Meanwhile, at the Chaudhary haveli, Saroj and Kusum are talking about Sayuri and guessing that she must have gone home and complained about them to her mother and must be eating. Kusum then looks at the mirror and tells Saroj that Sayuri is not eating anything. Saroj then tells her that it's good and even she won't tell Kanha about the ritual that he needs to break Sayuri's fast.
At the office, Kanha is working really hard and wondering if Sayuri would be fine at home. In the evening Nakul comes to his cabin and tells him that Sayuri is at her home. Kanha is happy to hear that. But just then Dhanraj comes and tells him that he should have gone to Sayuri as he needs to break her fast and bring her back home. Kanha gets worried about Sayuri. At the same time, Sayuri is feeling dizzy but is still trying to be of help to her family. She was about to faint when Kanha came and held her.
He asks her why she didn't inform him about the ritual and also tells her that she should keep her ego aside at times. He tells her that he knows she can't stay empty stomach for long and if she had informed him he would have come early. Bhanumati then asks Indrani to get some food for them. Indrani asks Kanha to take the first bite and then he feeds Sayuri. The family is happy to see how Kanha takes care of Sayuri. They then bid adieu to the family.
While going back Sayuri is still not feeling well. Kanha tries to protect her so that she doesn't fall. Seeing her not being able to walk, Kanha lifts her and takes her back home.
In the upcoming episode, we will see that Kanha brings Sayuri back to the Chaudhary haveli. Saroj and Kusum are surprised to see him carrying Sayuri. Kanha and Sayuri then notice Anjali there. To know what happens next, keep watching the show.
Produced under Director's Kut Productions, "Woh Toh Hai Albelaa" features Shaheer Sheikh, Hiba Nawab, Kinshuk Vaidya, Sachin Tyagi, Pallavi Pradhan, Sucheta Khanna, Mehul Buch, Nayan Bhatt, Somesh Agarwal, Suruchi Adarkar, Rachi Sharma and Vaishnavi Ganatra. It airs on Star Bharat, Monday to Friday at 9 p.m.